Veterinary Anesthesia Machine
Compact design gas anesthesia machine for veterinary and laboratory use.

Quick switch between rebreathing and non-rebreathing circuit with one turn.

Change from tabletop to stand-mount within 15 seconds.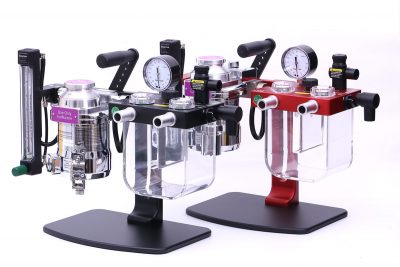 Versatile Breathing Circuit
Opening or closing the rebreathing circuit by one turn of the knob, convenient to switch between rebreathing and non-rebreathing system.

Safe Oxygen Flush
Oxygen flush valve with restricted flow for extra safety of the patients. Integrated with the breathing circuit for easy access and handle.

Interchangeable Mounting Methods
Tabletop design with easy carry handle, upgradable to stand-mount or wall-mount seamlessly by specific mounting kit.

Customizable Configuration
Flowmeter with different reading ranges, vaporizers of Cagemount and Selectatec type with screw-fill and key-fill option are available.

User Friendly Design
Delivery with a complete assembly, no tools needed for regular maintenance.

Qualified Parts Installed
All parts and materials used in ANPEX anesthesia machines are medical or food grade product from qualified global suppliers.
| | |
| --- | --- |
| Dimension | 452(L)x 208(W) x 360(H) mm |
| Weight (w/o Vaporizer) | 6.7 KG(/ 4.8 lbs) |
| Flowmeter Reading | 0.2 - 4LPM (Optional) |
| Manometer Reading | - 40- 80 cmH2O |
| CO2 Absorber Capacity | 1300 cc |
| APL Valve Adjustable Range | 0 - 60 cmH2O |
| Oxygen Flush Flowrate | 10 - 15LPM |
| Oxygen Connector | D.I.S.S. Male |
| Rated Working Pressure | 50 PSIG (3.44 bar) |
| | |